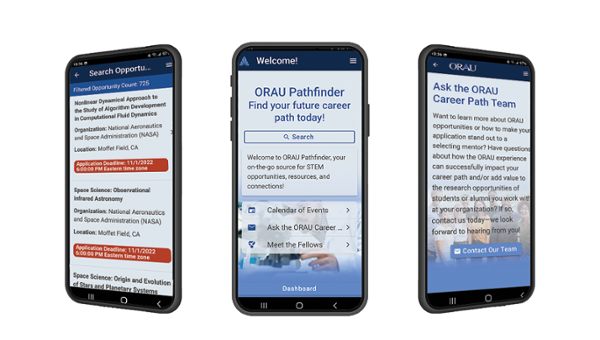 Download the ORAU Pathfinder mobile app
The ORAU Pathfinder app provides a wide range of resources for Fellows on the go. Use ORAU Pathfinder to:
Search and apply for fellowships
Manage applications and accept offers in Zintellect
Receive important program notifications and information
Learn about exclusive ORAU educational and professional development events
Enhance your skills with ORAU Learn online modules
Plus, much more!
ROSES webinar presented by NASA's Dr. Max Bernstein
The NPP hosted a webinar to introduce Fellows to the NASA Research Opportunities in Space and Earth Sciences (ROSES) program. This talk was presented by Dr. Max Bernstein, the NASA SMD Lead for Research, providing a combination of information specifically about the SMD "ROSES" research solicitation, as well as more general advice about proposal writing.
Download the presentation (.PPTX, 6.9 MB)