Alejandro Borlaff on moving to the other side of the world to follow your dreams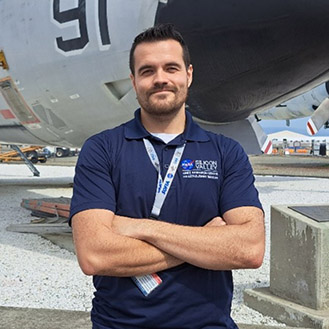 Center: Ames Research Center
A self-described "ophthalmologist of telescopes," Alejandro Borlaff is something of a savant in the world (or worlds) of space exploration and observation.
Borlaff's journey began in his home of Madrid, Spain, studying physics before moving to the Canary Islands. There, he would begin working with telescopes, eventually getting to base a portion of his doctorate on making improvements to the Hubble Telescope. For Borlaff, "shooting for the stars" seemed to be the natural progression for him early in his career.
"I mean, I always wanted to know how things worked. I think it goes as a part of family," said Borlaff. "My parents, they are very interested in these kinds of things. And yeah, I had been exposed to it since I was a kid, so it grew natural, just something that grows over time. And then, at some point, I became more interested into space, so NASA was a natural way."
After his doctorate, Borlaff started work on a post doctorate at the European Space Agency, working on the Euclid telescope that will launch sometime next year. A few weeks ago, he also completed his NASA Postdoctoral Program at NASA Ames. Borlaff will continue work for Ames over the next few years with several collaborative projects, thanks to two grants awarded to him this year.
Not only has NASA given Borlaff new opportunities in research, but it has also provided him with relationships he will cherish for a lifetime.
"My mentor is Pamela Marcum; she works at NASA Ames. She has been amazing from the scientific point of view and personal point of view. In my personal case, I had many things to learn. I had to learn not only how to work at NASA, but I also had to learn how to live in the United States. This included everything from getting invited to Thanksgiving to working in this environment, which is huge. Many opportunities that you just do not know if you do not have a mentor that helps you."
Borlaff has even taken the wisdom gifted to him by his mentor back home with him. In 2021, he started a master's thesis program in Spain as well as helping another fellow Spaniard earn a doctorate in Latin America.
"I remember all the stress, all the exams and all the uncertainty of what I was going to do in the next moment," said Borlaff. "Being able to meet, talk and give some advice that I hope is useful, is very empowering."
For Borlaff, his own journey through uncertainties, both in research as well as life, has helped him become a leader and a mentor for students wishing to follow in his footsteps.