Where are they now? Former NASA Postdoctoral Program Participant Gioia Massa, Ph.D.
NASA project scientist's research aims to enable the production of food in space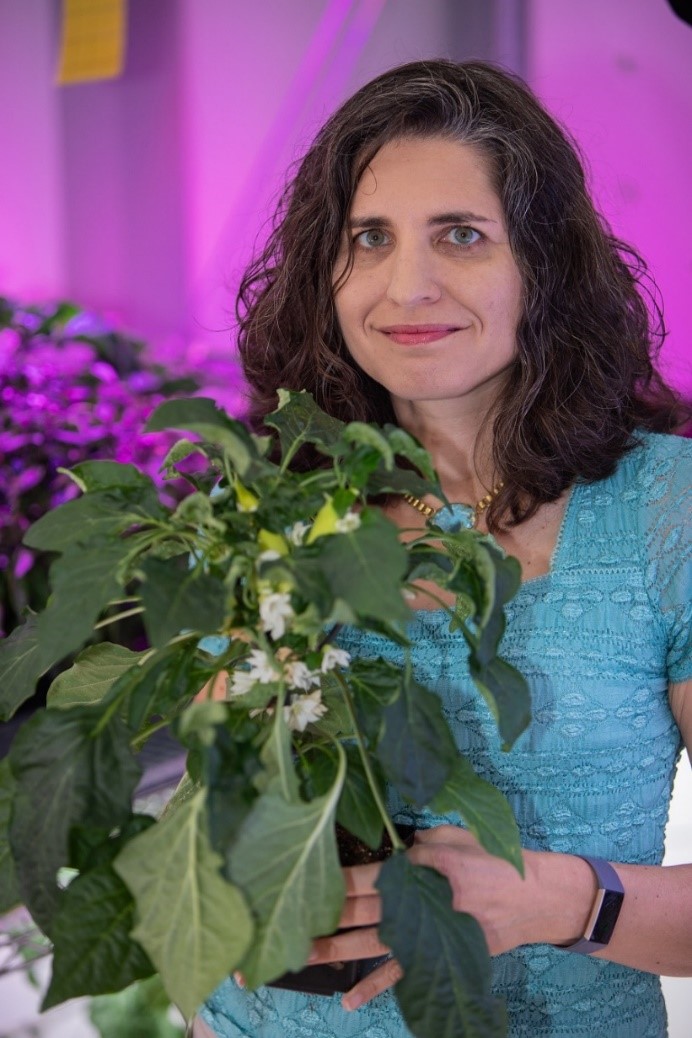 When Gioia Massa, Ph.D., was 12 years old, she was introduced to space plant production research at NASA's Kennedy Space Center (KSC). With the goal of becoming a project member, she pursued every opportunity to work at KSC, as an intern, project councilor, student investigator and postdoctoral fellow. Ultimately, her journey led to the role of NASA project scientist.
Massa, who received a doctorate in plant biology from Penn State University, joined the NASA Postdoctoral Program (NPP), under the guidance of adviser Raymond Wheeler, Ph.D. The NPP provides early-career scientists and more senior scientists the opportunity to research alongside NASA professionals and share in NASA's mission.
At KSC, Massa's research focused on developing methods for growing salad crops in a new chamber, known as Veggie, and selecting crops that would grow well in this environment.
"As humans journey farther from Earth and stay longer, the needs increase for in situ food production, and crops are an excellent way to provide nutrients and dietary variety," Massa said.
She tested different plant varieties and substrates in the Veggie plant pillows, small rooting packets with fertilizer for seeds, and helped to develop the final design for the flight hardware. Additionally, she created a test plan for validating the Veggie hardware and formed a scientific team to conduct that research.
"I feel incredibly grateful that during this postdoctoral fellowship, I was able to help set the stage for astronauts to grow and eat crops on the International Space Station (ISS)," Massa said. "The work that I did had an impact when Veggie was launched to the ISS, and it continues to have value as NASA works to develop space crop production systems in the future."
During the final year of her postdoctoral fellowship, Massa was offered a project scientist position at KSC. Though much of her work involved continuation and expansion of the Veggie project, she also served as a liaison and adviser to other scientists as they developed and conducted experiments on the ISS. Additionally, Massa became heavily involved in the education and outreach programs of their office, something she had benefitted from as a student.
Now, as a senior project scientist, Massa continues most of these duties and contributes to the development of NASA's strategic plan for space crop production. She also serves as the principal investigator of several space flight investigations.
"I am most grateful for the amazing mentors I have had from junior high school, through undergraduate and graduate school, internships and postdocs. The NPP fellowship under the guidance of Dr. Raymond Wheeler had a large impact on my success," Massa said. "I have since been privileged to mentor three other postdoctoral fellows and numerous undergraduate and graduate interns. I hope that I can help to provide the same support to other young scientists that I was so fortunate to receive."
In 2019, Massa received the Presidential Early Career Award for Scientists and Engineers, the highest honor given by the U.S. government to researchers beginning their careers. Additionally, NASA recognized Massa with the KSC Engineer/Scientist of the Year, Civil Servant Award in 2015 and the Early Career Achievement Medal in 2014.